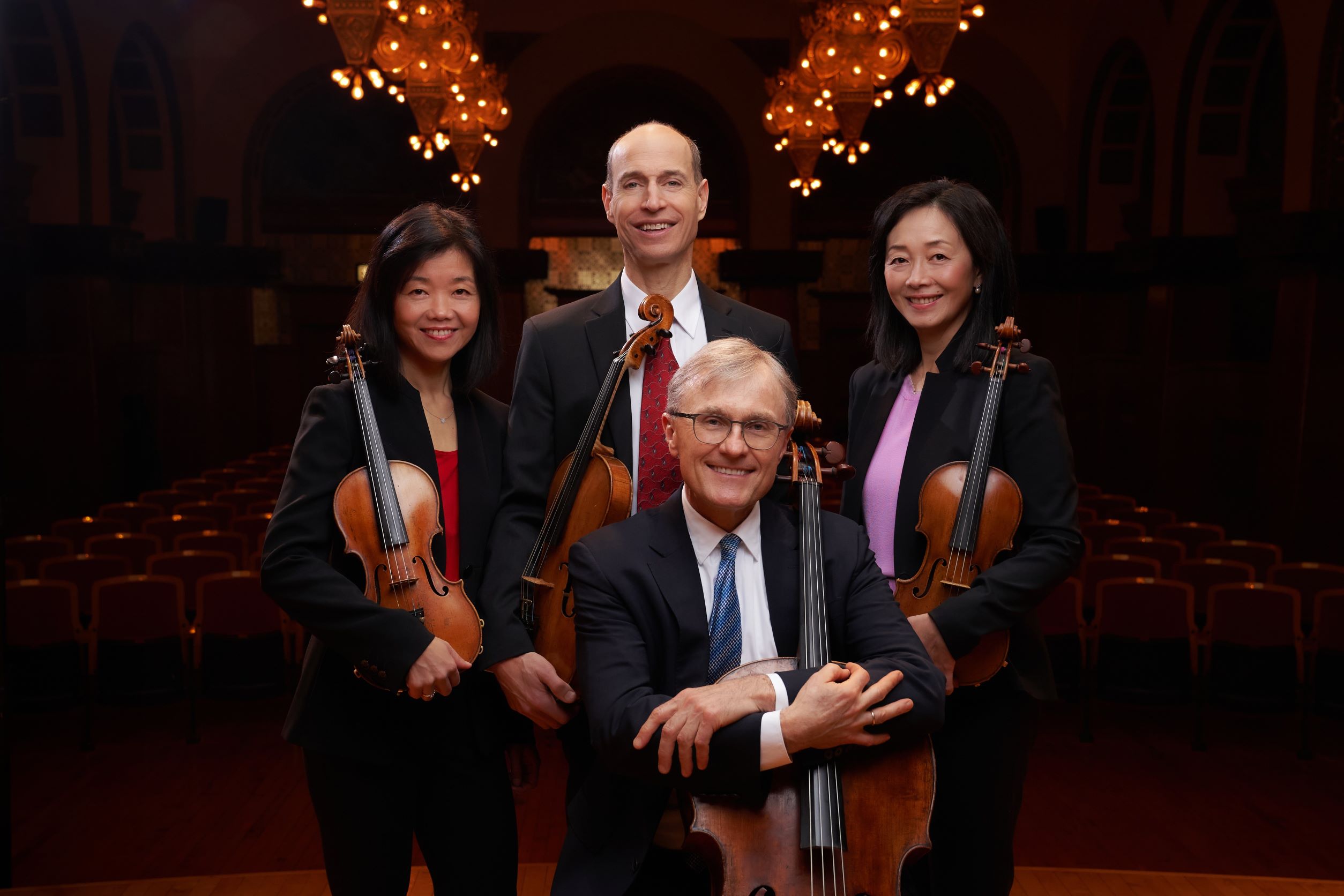 Brown County ChamberFest | Arts & Culture
Aaron Cain: I'm Aaron Cain for WIU Arts. ChamberFest Brown County is in full swing, with musicians from near and far, and three of them joined me on Zoom to talk about this year's festival.
Andreas Ioannides: I am Andreas Ioannides. I am a pianist. I'm also the artistic director of ChamberFest Brown County. In fact, I graduated from IU in 2019 with my PhD, studying with Mr. Pressler, and now reside full-time in Ireland where I teach at the Cork School of Music.
Larry Neuman: My name is Larry Neuman, I play the viola. I am a member of the Chicago Symphony with my colleagues from the Lincoln String Quartet. We are all at the festival this week.
John Sharp: John Sharp. And I also play in the Chicago Symphony, I'm principal cello.
Aaron Cain: This is the second year this has happened, isn't it?
Andreas Ioannides: That's right. It's basically a classical music festival with a focus on chamber music, so this year it's August 14-20, and we have six concerts and a poetry event. The schedule you can find in detail on our website.
Thus, on Wednesday August 17, we have a performance which we will call Clarinet Transformations, and which will be centered around the clarinet. It takes place at the National United Methodist Church in Nashville, IN. Then on Thursday August 18, we then have a concert for the biggest ensembles. We play Brahms' Piano Quartet in G minor. And it will be with pianist Elisabeth Pridonoff, who taught at the Cincinnati Conservatory of Music for many years. And she will join the members of the Lincoln String Quartet. And then finally in the second part, we have the Franck Piano Quintet — I'll play the piano part for that — and the same string ensemble. Then on Friday we have a piano trio concert which involves me but not the Lincoln String Quartet. I play a piano trio with Professor Jacobs Mark Kaplan and Peter Stumpf, violin and cello. Very excited about this. And finally, on Saturday August 20, the Lincoln String Quartet. They begin with Dvořák's "American" String Quartet. And then, after intermission, they do the glorious Brahms String Sextet in G – the second – and they will be joined by two members of the Pacifica Quartet, Brandon Vamos on cello and Mark Holloway on viola. So it's going to be at the Brown County Playhouse at 7:00.
Aaron Cain: So how did he prepare the works for these performances?
John Sharp: We just got out of rehearsal; first rehearsal for the Franck Quintet – just a wonderful piece – and it was really a joy to work on it and find out what's going on there.
Larry Neuman: Yeah. Stimulating and refreshing to play with new people, to meet Andreas and play with a new musician, and to hear his thoughts on how we play it.
Aaron Cain: Have you ever had the opportunity to rehearse and play in these rooms, and what do you think?
Andreas Ioannides: We use three churches in Nashville. Wednesday, Thursday and Friday concerts are held at the United Methodist National Church, which is a very nice space. And, besides, we are in Brown County, which is one of the most beautiful areas of Indiana. It really is a destination for all types of tourists, and also music lovers. So I think we're on to something in terms of bringing music and nature together.
Larry Neuman: Music is so consumed and heard so much today through a kind of electrical amplification. There's no end to the ways people can listen to music: online, or in stereo, or on the radio, or whatever, headphones, et cetera. But I'm convinced that acoustic music, in particular, and older styles of music, like so-called classical music, is a different kind of experience that so many people don't have today; they don't very often hear music – acoustic music – unamplified, without electricity, with these instruments that were designed, sometimes, hundreds of years ago. And those people who lived so long ago, and they saw life differently because those times were different.
John Sharp: I completely agree with what Larry said. You can't describe in words, maybe, a certain moment, or the whole piece, but you say, "I know how that composer felt. You understand how they felt. And I think that's why the music is so amazing and so great, and there's really no substitute for that. I mean, you can't really put into words what these things are saying, but you… you recognize it.
Aaron Cain: John Sharp, Larry Newman and Andreas Ioannides. Thank you so much for telling me about ChamberFest, Brown County 2022.
Larry Neuman: Thanks.
John Sharp: Thank you for receiving us.
Aaron Cain: More information on the festival website, chamberfestbrowncounty.com. I'm Aaron Cain for WFIU Arts.