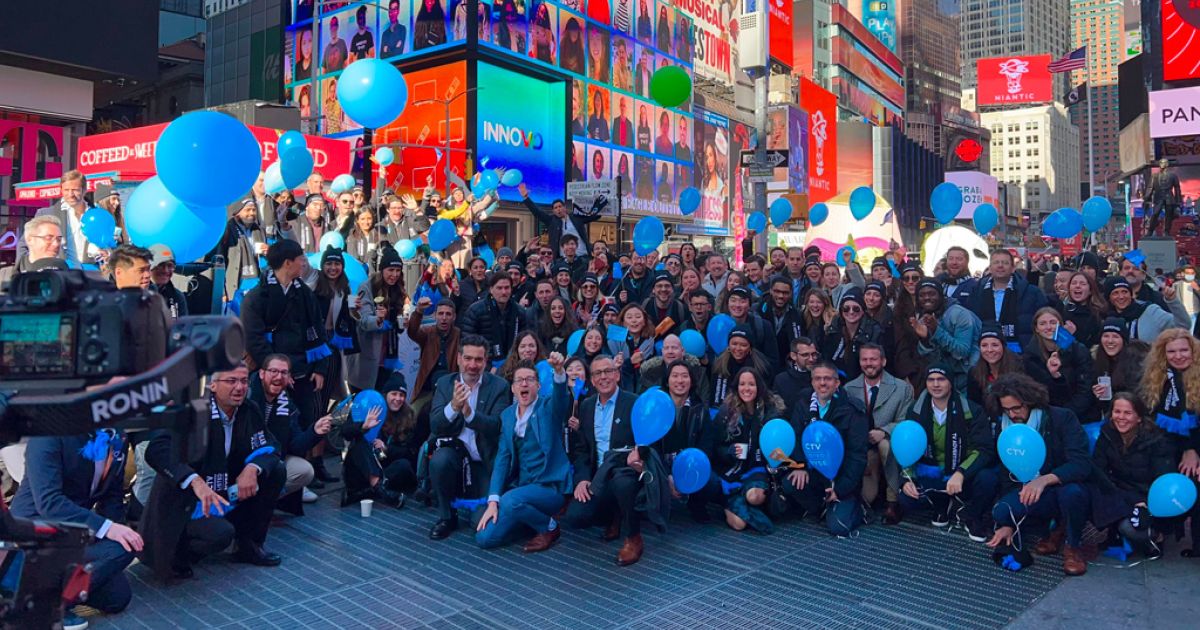 Culture is the key. And at Innovid, there is no shortage.
The inaugural InnOlympics was to begin with the lighting of a ceremonial torch. But Zvika Netter, the co-founder and CEO of Innovid, forgot the torch at home. So he improvised.
In front of a live crowd at the New York office and hundreds of remote employees connecting via Zoom from places like Los Angeles, Chicago, Israel and China, he grabbed a box of tissues, hoisted it high, delicately pulled one so that it stood straight from the box, and set it on fire.
Now the games could begin.
The idea for InnOlympics came from Leah Stewart's team. The HR associate thought it would be a fun way to engage Innovid's global workforce in a collaborative, competitive and mandatory event that spanned three days and nearly 100 challenges. The teams were randomly selected and included everyone in the company, even the senior suite executives.
One of the challenges was to create an anthem on Innovid. Another was a coin stacking contest. One was to get as many mini packets of ketchup and mustard as possible in an hour. Vice President of Product Marketing Laura Foster had to thread a string of uncooked spaghetti through five pieces of penne pasta – with her mouth.
"I think I got 1,000 points for my team for that one," Foster said.
The teams recorded videos of their achievements via an app where they could track their scores and those of their competitors. In the end, Foster's team took home the grand prize, which included an Innovid branded medal and a $100 gift card.
"But really, the whole company won, because an image of Zvika holding the flaming tissue box became one of our most used emojis," Foster said.
Culture is a key factor in motivating someone to join a company, and at Innovid there is no shortage of it. The adtech company offers a DEI task force, culture committee, wellness teams, mentorship programs, and yes, wacky events like the InnOlympics that create an inclusive and fun environment.
Want an inside look at what this culture looks like in action? Built In sat down with three team members to find out more.
WHAT THEYRE DOING
Innovid optimizes advertising delivery, personalization, measurement and results across linear, connected television (CTV) and digital for leading brands. With a global infrastructure that enables cross-platform ad serving, data-driven creation and measurement, Innovid provides clients with always-on intelligence to optimize advertising investments across channels, platforms, screens and devices.
What attracted you to Innovid?
HR Associate Leah Stewart: I come from a very different background. I was working with the United Nations and I knew nothing about adtech. But when I heard about Innovid, it seemed like a cool company. Then I fell in love with it when I walked into the office. The environment was so dynamic. There was music and people were talking. Everyone was so nice and welcoming. I immediately felt the warmth of the culture.
Technical Project Manager Roy Zhou: Pretty funny, I actually interviewed at Innovid in 2019, and I was rejected. Then I was hired in 2021. Despite my refusal two years earlier, I was still interested thanks to our HR team. The original recruiter who recruited me in 2019 is the same recruiter who recruited me in 2021. She was so nice in 2019, explaining that maybe I was not a good candidate at the time, but that wanted to keep me on file for the future. And she actually followed that!
Vice President, Product Marketing Laura Foster: I've been in the adtech space my entire career. In a previous job, I worked with a colleague for about three weeks, then she left and went to Innovid. Years later, she asked me to join her. I started the interview process and was immediately treated like a human being. You are not a number here. The emails were personal. The HR rep contacted me and said, "I just talked to your friend for 45 minutes about you, and she's obsessed with you. Let's talk more and see if it makes sense, and if you like us too. The whole process was so different from a normal, very structured interview.
What do you brag about to your friends when it comes to Innovid?
Stewart: Garland! We have cool Nike jerseys, Innovid hat, shirts, backpack, pants and socks. The only thing we don't have yet are shoes!
Zhou: Our happy hours. They are legendary in the industry. I'll post pictures of them on my Instagram story, and all my friends will be like, "What is this? Why wasn't I invited? Can I come next time? I even had a client who said, "Hey, that looks really fun. I want to go karaoke with everyone. We may not see each other much since we work remotely. But seeing each other is fun and exciting.
Foster: The comfort of having difficult conversations. In most companies I've worked for, you have to be positive in a room. My friends will often say to me, "Ugh, we have this huge problem at work. And my response is always, "Well, have you spoken to your manager? Have you spoken to the leaders? And they say, "I would never talk about it." I will just be seen as a negative person. This does not happen at Innovid. In my experience, whenever I've discussed a problem with our CMO, CTO, or CEO, I've also come prepared with a solution, and they say "Great, do it." I don't feel strong layers of hierarchy here in terms of what I'm allowed to say or bring up.
What cultural events bring your remote workforce together?
Zhou: I recently partnered with the World Culture Committee for Asia Pacific Islander Month to host a lunch and learn event about the history and how to make bubble tea. This is the first time I have felt comfortable enough in a company to stand up and be that voice and teach my colleagues. The conference was in New York, but it was open to everyone on Zoom. If you weren't in New York and wanted to join, Innovid sent you a Grubhub gift card to get your own bubble tea. No one felt left out. I will definitely do it again next year.
Foster: This is not an HR sanctioned event, but many Innovid employees have Platoons, myself included. We've created a global Slack channel called #InnoPeloton and every three to six months we all join a class and ride exclusively together through a unique code. We always say, "OK, we're not going there too much". And then clearly some people start going strong. I love our Peloton team. It's a different way to connect with people, and we can do it remotely.
Stewart: We have a wellness team and we have created a whole calendar of wellness events. For example, we will celebrate High Blood Pressure Education Month and provide information about it. Through our insurance company Cigna, we will provide $25 gift cards to employees who get their annual medical exam. We host yoga events and virtual health and wellness seminars.
How does Innovid make DEI a priority?
Stewart: Our DEI initiatives are divided into three different categories. There is a committee on the culture of inclusion, of which I am a member. There is a community impact committee, which focuses on our mentorship program and our internship program. And then there is a diverse talent recruitment committee. We all meet monthly to review what we are doing in each of our groups.
Foster: I have been a mentor for the last two cycles of our mentorship program. Honestly, this has been one of the most rewarding aspects of my career. Hearing my mentee say at the end of the program, "Thank you, that was really helpful," had a big impact on me. I think impostor syndrome happens to all of us, and knowing that I was able to help someone definitely calms those thoughts.
INTERNSHIP PROGRAM
Innovid has a unique internship program. It specifically targets candidates with diverse profiles who might not have had the opportunity to get involved in the world of technology. During a recent internship cycle, Innovid worked exclusively with The Boyd Initiative, which helps young black professionals discover careers in advertising and media. "I met people I probably never would have met who might not explore technology or who thought technology was not for them because of their background, education, color of their skin or gender identity," Foster said. "Innovid actively seeks diverse talent to make our business and the industry more diverse."
In March, Innovid acquired TVSquared, which added 114 additional members to the team. How does an influx of people like this affect the culture?
Zhou: Everyone who comes to Innovid has something to teach you. It's also an excuse for ice cream. A bunch of us go to the New York office every week and post pictures of our ice cream. There's an ice cream parlor near the office that I'm a huge fan of, called Café Panna. It has become such a thing that one of our presidents likes to join us. Whenever someone comes to the New York office for the first time, we always make sure they come too. It is imperative.
Foster: Everyone talks about preserving culture as you grow. I think the best way to preserve culture is to inject new bits of culture into it because if it's just us, always and forever, it's not going to grow. It will become stagnant, dry and boring. I love that we now have a whole team in Edinburgh, Scotland. We have a team based in Tel Aviv, Israel. We really have a fascinating and evolving culture.