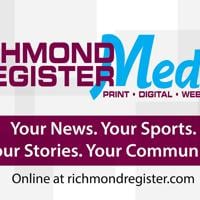 Education notebook | Education | richmondregister.com
Updated Model Lab Masking
As of Thursday, Jan. 13, Madison County's incidence rate is in red status at 170.4. Masks/face coverings will continue to be required for all individuals.
Full and updated Healthy at Model guidelines are available at model.eku.edu/Content/healthy-at-model.
Saint Mark Catholic school calendar
Registration information will be open to current families only before being opened to the community. The school's waiting list for pre-kindergarten and kindergarten for this fall is already filling up and it will be important to know how many places the school will actually have available. Use this link to register: https://bit.ly/3f3OuRe
The next school council meeting is Tuesday, February 1 at 6:30 p.m. and will be held at the school library. If you would like to discuss something in particular and cannot make it to the meeting, please contact one of the parent members: Stacey Blackburn ([email protected]), Brittany Blevins ([email protected]) or Starr Wentzel ([email protected]).
EKU Flight Instructor Earns FAA Designated Pilot Examiner
According to an EKU press release, Wayne Sherman, who is assistant chief flight instructor and safety manager for the EKU aviation program, was granted DPE status in 2021 after nearly a year of interviews. , intense training and monitoring by the Federal Aviation Administration. (FAA). It is one of only 10 DPEs serving the state of Kentucky.
The designation is granted to flight instructors who teach and evaluate other pilots. Sherman represents the FAA in administering the oral and in-flight examinations that issue pilot licenses and ratings to active pilots. To maintain his designation, he will undergo annual training sessions, meetings and continuous monitoring of his aeronautical skills and knowledge.
"As the only four-year flight school in Kentucky and a leading aviation program nationally, we are committed to ensuring that the EKU aviation program has the equipment, professional development, and personnel needed to continue to improve our flight program," said EKU President David McFaddin. noted. "Having an FAA-designated pilot examiner on our team enhances the competitiveness of our program."
"The EKU Aviation Program is fortunate to have Mr. Sherman on staff," said Dennis Sinnett, Executive Director of the EKU Center for Aviation. "His recent designation by the FAA as a Designated Pilot Examiner is further recognition of his professionalism and exceptional skills as a flight instructor. Mr. Sherman is a true professional pilot and the entire program is delighted that he has achieved this milestone in his career.
Sherman began flying in 1979 and became a flight instructor in 1984. He has served as an airline pilot for various charter companies, chief pilot for numerous charter operations, and chief pilot for a corporate flight service based in Chicago.
"I had never even considered aviation a hobby, let alone a career," Sherman said. "My stepfather was a company pilot and instructor. He bought a Cessna 150 and planned to teach his son to fly. He offered me the opportunity to be his student. From the first time I touched the controls, I was hooked.
Sherman was a full-time firefighter and paramedic at the time, but after 20 years in the ranks, he became a full-time pilot.
He started at EKU in 2019 after retiring from corporate pilot life and moving to Kentucky.
"I knew EKU was looking for instructors, and since I've always loved the college setting, it seemed like a natural fit," Sherman said. "The more I got to know the university and the staff I work with, the more I knew this was the place for me."
Nominations are open for Kentucky's 2023 Teacher of the Year
According to a press release from the Kentucky Department of Education, nominations are now being accepted for the 2023 Kentucky Teacher Awards, sponsored by the Kentucky Department of Education and Valvoline Inc.
Any full-time state public school teacher with at least three years of experience is eligible. Applications can be submitted via this Google form (https://docs.google.com/forms/d/e/1FAIpQLSfH4RUCo9qUgbEBOcE9TVtMrMAcGTko_KUBgEvFrEc2fJatZA/viewform).
Teachers can be nominated by students, parents, peer teachers, principals, superintendents, or anyone in the community who has an interest in honoring an outstanding educator.
"The Kentucky Teacher Awards are a great opportunity to highlight the people who work every day to prepare our children for a bright and meaningful future," Kentucky Commissioner of Education Jason E. Glass said. "Their jobs have become more difficult over the past two years, but they have persisted. We encourage everyone to think about teachers who have a positive impact on the lives of young people and nominate them for this recognition.
All nominated teachers must complete an official application and submit it by March 21. A panel of education professionals from across the state will judge all entries in March. Up to 24 winners of the Valvoline Teacher Achievement Award will be announced in the spring. The top nine applicants will receive additional assessments, culminating in the selection of Kentucky's 2023 Teacher of the Year.
Kentucky's Teacher of the Year will be announced later this year, where each of the Valvoline Teacher Achievement Award winners will be honored with a cash prize and other awards. Winners of the Teacher Achievement Award will receive a cash donation of $500 each; two of the three finalists will receive $3,000; and Kentucky's Teacher of the Year will receive $10,000, along with the opportunity to represent Kentucky in the national Teacher of the Year competition.
Now in its 22nd year, the Kentucky Teacher Awards program is a collaboration between private industry and public education.