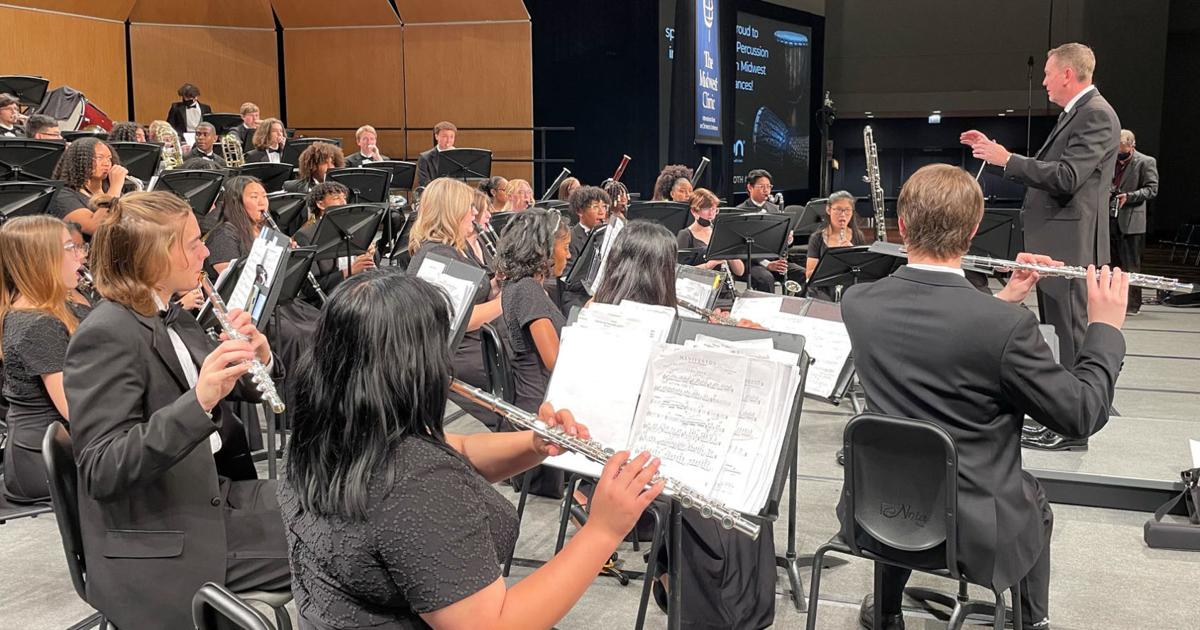 Froedge Retires as Group Director of North Hardin | Education
During the week of December 13, North Hardin High School group principal Brian Froedge took his concert group students to Chicago for the Midwest International Band and Orchestra Clinic.
It would be the last time Froedge would perform with his students. He said these students had to work particularly hard for the clinic as it is a younger group, an effect of the COVID-19 pandemic.
"Then all of a sudden it was over… it kind of went from one extreme to the other," Froedge said.
After the 27th year, Froedge was given the opportunity to retire, which he did before the start of this next school semester. He said that although he enjoyed the position and the work, the job is difficult as it is almost hourly throughout the year.
Two of her children, Carson and Elizabeth, are currently in high school. Recently, he and his wife, Brittany, had a child on November 11 named Fitzgerald. He said he wanted to retire to spend time with his children.
"I was ready to change my life," he said.
Froedge grew up in Rineyville where he graduated from NHHS, then began studying at the University of Transylvania.
At first, Froedge said he was a chemistry-English double major for a year. He then began working with a former classmate who was the director of the marching band at Western Kentucky University who asked him to help teach students during the summers for the marching band.
He then decided that this would be something he would like to do, and decided to pursue music and music education in college.
He became a substitute teacher in his first year of college at the NHHS. Chuck Campbell, then the group principal at NHHS, allowed Froedge to work with the group after school, and he eventually got a position as group principal at Radcliff Middle School, which is now North Middle School.
In 2000 Froedge became the assistant director under Campbell, then in 2006 he became the director.
"I never thought I would go back to the same high school I graduated from, but all the teachers were really welcoming to me," Froedge said.
Froedge said he is not a professional performer, but has been able to familiarize himself with all instruments over the years, which has allowed him to effectively teach his students.
Over the years as a principal, he said that they had tried to create a culture where the group and the group room felt like family, where the students felt supported.
He said that includes telling students to be dedicated, to be engaged, to be consistent, to be persistent, to work as a team and to be on time.
"I just try to keep it (the culture) going day after day, year after year," Froedge said.
Devon Jobson graduated from NHHS in 2016 and graduated from college in 2020. He is now the group principal at Lawrence North High School in Indianapolis.
Jobson said he has known Froedge since he started marching with a bang in eighth grade.
"He's always been really, really good at making you… a great musician." But the way he does it is by training us to be great people, "Jobson said.
As the group director, they were able to receive high rankings and accolades, including the marching band that won the state semifinals and nearly first place in the state finals in 2015. Right after, a record number of students have formed the All-State group.
Next, the group performed at Macy's Thanksgiving Day Parade, followed by the Midwestern Clinic in December.
Froedge said they have tried to travel the country and the world to see how best to teach and reach students. He said he tries to work with students through their successes and failures, and connect with them to try to make them even better people.
"He's like a master teacher. Just an absolute master teacher and everyone in the profession knows that, "Jobson said.
To him, Jobson said a line he remembers Froedge often saying "time is the most important thing we have", which cemented the idea of ​​not wasting time rehearsing and working for it. to improve.
To this day, Jobson said he was still able to call Froedge for advice. Jobson also said Froedge was able to come up with jokes that somehow resonated with students, or jokes that had references that students didn't recognize.
"I can't stress enough the impact it has had on so many people," Jobson said.
However, Froedge said that while he's no longer leading, he's interested in other projects, including focus groups, clinics and judging contests.
The new NHHS program group director will be Kelsey Dunn, who started working with Froedge last summer.
Andrew Harp can be reached at 270-505-1414 or [email protected]