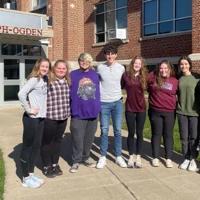 Morning High: April 16, 2022 | Education
Next week, a group of nine St. Joseph-Ogden students will dress professionally, come to school, and sit at their computers to discuss constitutional issues with state senators and justices of the Supreme Court of the whole country.
For the fifth time in six years, the St. Joseph-Ogden Constitution team has qualified for the We the People National Finals, where high school students answer questions and discuss the constitution with a panel of judges made up of politicians and judges.
"This is a pretty elite group, a small group of motivated students who are ready to go on," said social studies professor Marshall Schacht.
The program began when Schacht participated in a study with the Illinois Civics Center. In order to receive materials for a program that he would use in his class, he formed the first Constitution team.
Competing against mostly suburban schools, the team finished second to Maine South that year in the state competition at the Dirksen Federal Building in Chicago, earning a national competition bid in Washington, D.C.
Although the competition has moved online in recent years, the principles of the program, which Schacht hopes to one day expand to other schools in the region, are the same.
"Civic education is so important right now and is a consumer of knowledge," Schacht said.
"There's so much out there that you have to sift through in terms of partisan inclinations in terms of reporting. One thing that I love about this program is that it really goes to the basics of constitutional documents and principles that are beyond debate, really. It really helps them, I think, instead of bickering about the topic of the day, they really understand what the constitution framers plan was.