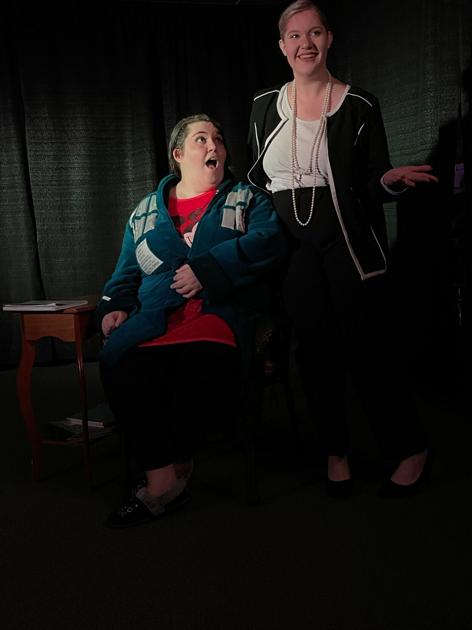 Morristown Theater Guild's 'Proof' Final Performance | Arts and entertainment
The Morristown Theater Guild hosted their latest performance of "Proof," a Chicago-based play that addresses questions of madness and genius. Friday November 12 and Saturday November 13.
"In a way, the show is timeless," said Chris Wiley, board member and director of "Proof". "He deals with mental illness, Jeff Spencer plays Robert who is a mathematician and professor. He sort of peaked in his career in his mid-20s and from that point on, he's just tumbling down. He has two daughters and most of the play is just a discussion of whether one of his two daughters inherited his mental illness. In the middle of it all, we have Hal, played by Blaine Sebastian. He's kind of a big fan of Robert, he's also one of his alumni and the love of Katherine, one of Robert's daughters. Hal finds this notebook he thinks is Robert's and wants it published. So while also dealing with mental illness, as well as his motivations on the show. "
Spencer brought such a realistic feeling of utter insanity, which may be unrelated to some, while also tapping into something a little deeper and touching the depths of mental illness.
"I play Robert," Spencer said. "He's got that genius and that madness and he sort of floats between those two extremes throughout the show. I am an engineer by training, so with my education there was a lot of math. I've had teachers who are very, very similar to this character, at least in their academic demeanor.
The role of the eldest daughter, Claire, was brilliantly performed by Reagan Livesay, a high school student equally passionate about his robotics team.
"What's funny is that my older sister, Emily, plays Katherine. Who's the younger sister on the show," Reagan said with a laugh. "It was my very first play, which is a bit much. . When most people try their first game, there are five, maybe ten, or twelve lines. I had about 300 lines.