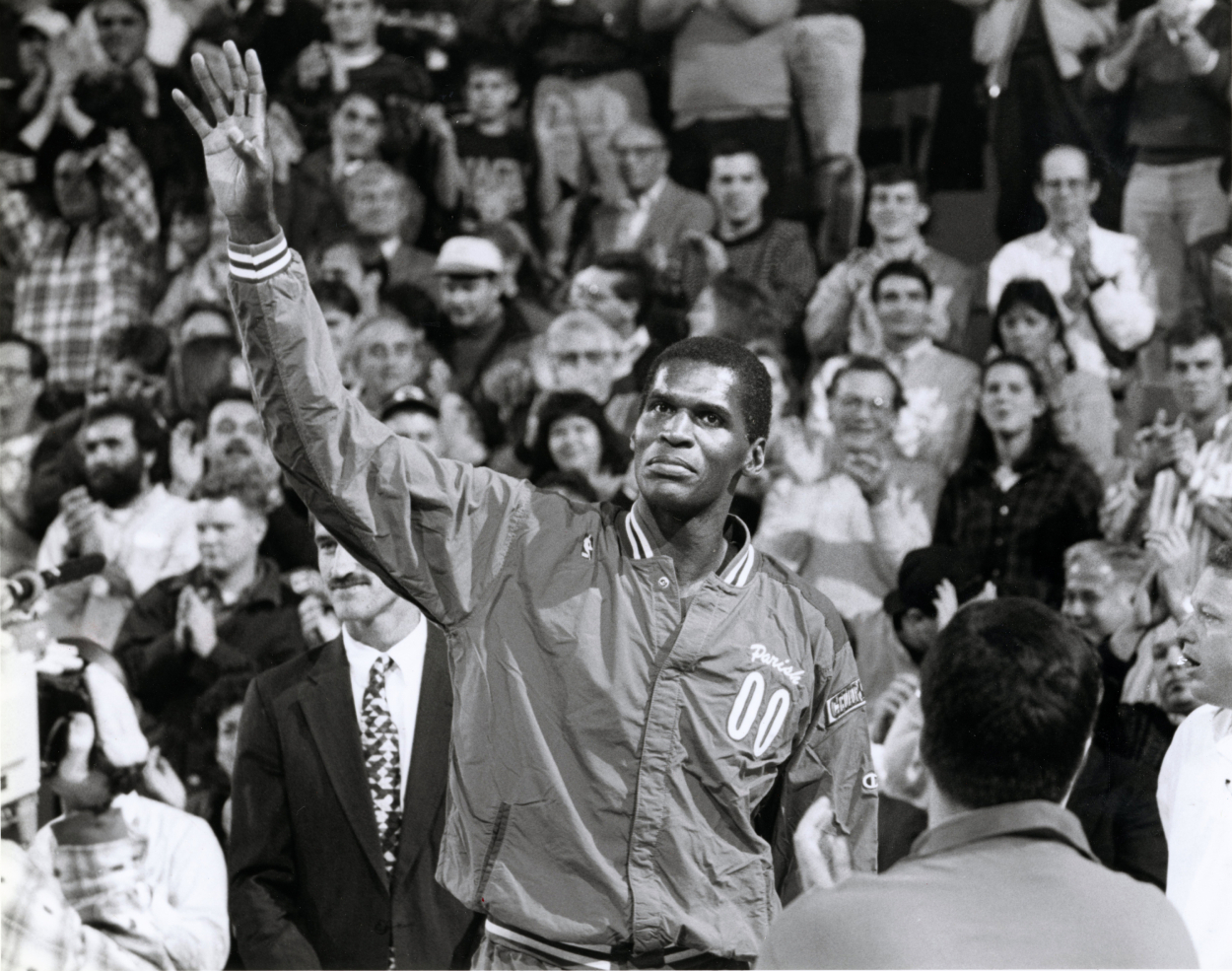 Robert Parish distinguishes between Larry Bird's Celtics locker room culture and Michael Jordan's Bulls locker room culture
Naismith Memorial Basketball Hall of Famer Robert Parish played 14 of his 21 NBA seasons with the Boston Celtics. He played a year with the Chicago Bulls. He won three championships with the Celtics and won another title in that year alone in Chicago.
That one season playing with Michael Jordan and Scottie Pippen was eye-opening. In a conversation with former Celtics teammate Cedric Maxwell, Parish discussed the difference between the locker room atmosphere with Bird and with Jordan. It didn't seem like a warm place in Chicago.
Robert Parish won three titles with the Boston Celtics and added one more with the Chicago Bulls
Parish's career took a turn when the Golden State Warriors traded him to the Celtics before the 1980-81 season. The 7-foot-1 Centenary College center spent the first four years of his NBA career with the Warriors. Prior to the 1980 NBA Draft, the Warriors dealt him and the third overall pick to the Celtics in exchange for the first pick and another first-round pick. Boston selected Kevin McHale with the No. 3 pick, building their frontcourt for the future.
Parish and McHale teamed up with sophomore star Larry Bird, who won Rookie of the Year the previous season. The trio helped bring the first of three titles to 1980s Boston. They would go on and become arguably the best frontcourt in NBA history.
Parish helped secure NBA championships for the Celtics in 1981, 1984 and 1986. He was a nine-time All-Star, winning the honor seven consecutive seasons between 1981-87. In his time with the Celtics, Parish averaged 16.5 points and 10.0 rebounds.
After leaving Boston, he played two seasons with the Charlotte Hornets before ending his career with the Bulls. With the Bulls, he played 43 regular season games and two postseason games, but won his fourth championship ring.
Robert Parish spoke about the locker room differences between the Celtics and the Bulls
It may not be fair for Parish to compare the difference in locker room atmosphere between the Celtics and the Bulls. He only spent one season in Chicago but didn't have many good things to say about his time with Jordan.
Parish and Jordan had a memorable interaction during one of Parish's first practices with the Bulls. Jordan, known for being tough on his teammates, put himself in front of the center. Parish dismissed Jordan.
"I told him, 'I'm not as in love with you as those other guys,'" Parish recalled to ESPN's Jackie MacMullan in 2012. "I also have rings." At that time, he m ' said, 'I'm going to kick your ass.' I took another step and said, 'No, you really aren't.' After that, it didn't bother me anymore.
Parish recalled his short time with the Bulls with Maxwell in a 2020 episode of Cedric Maxwell's podcast.
"Michael could definitely carry you because he had such a strong, very vocal personality," Parish told Maxwell. "Almost to the point of being confrontational. He would come right up into your personal space, talking trash.
"That's one thing I've always loved about us, the Celtics. We respected each other. We talked a lot of trash every day about each other, but there was always that respect. I can't think of a disrespectful teammate We have always respected each other.
"I think that's where Michael crossed the line. He demanded perfection. I felt like if you were going to demand perfection, which is impossible to do by the way, you have to give them some respect.
Parish said there was no way the Celtics would tolerate Bird if he acted like Jordan
Jordan has always had the reputation of being a perfectionist. He was not only hard on himself, but he was also demanding of his teammates. Parish said Bulls coach Phil Jackson never got in the way.
"Phil, like most coaches, left the locker room alone," Parish said. "He let the players understand the hierarchy, how the locker room was going to be governed. Michael just picked it up and ran with it. He just bullied all those guys. "You know what, Cedric, what bothered me about that? They didn't have the balls to say nothing, the teammates.
Bird was tough on his teammates at times, but he was respectful. If he wasn't, Parish said he and the Celtics wouldn't have put up with it.
"There's no way we would have taken that from Larry," Parish said. "There's no way, Max. Come on, you know it's true. There's no way we're condoning this behavior from Larry, and he was our boss.
RELATED: Robert Parish Earned Cedric Maxwell's Respect By Admitting His Flaws On And Off The Court