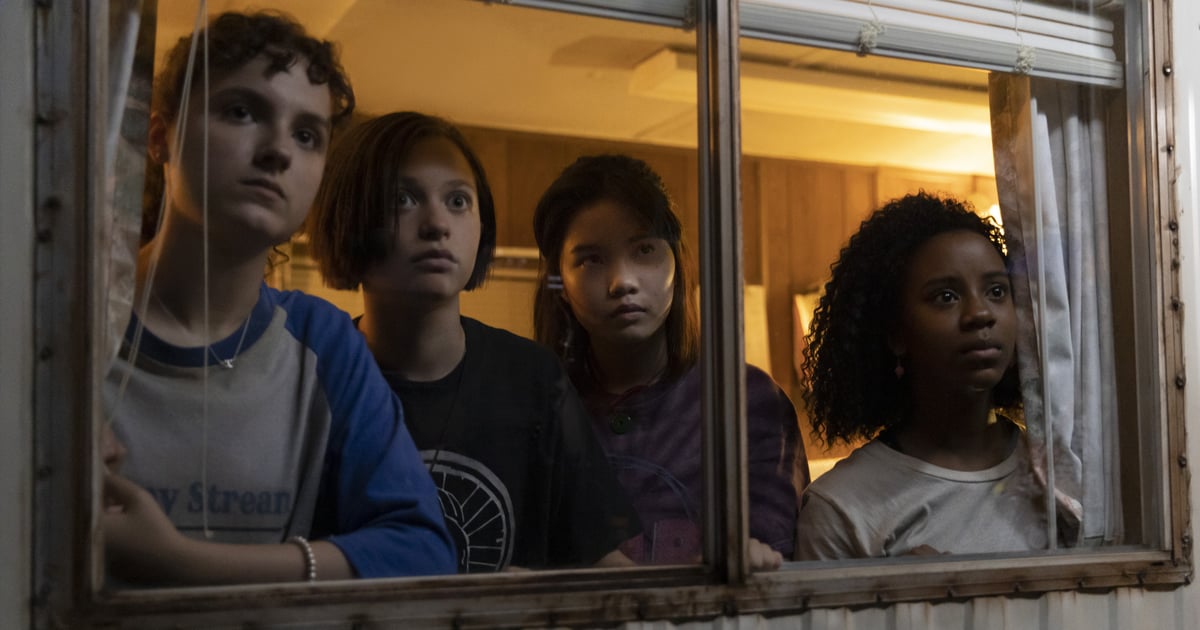 The Paper Girls Cast on Bonding On and Off Set
In Prime Video's "Paper Girls," Sofia Rosinsky, Fina Strazza, Riley Lai Nelet and Camryn Jones play four very different 12-year-old girls in 1988 who are brought together by the same job: delivering the newspaper by bike in the wee hours of the morning. . During a route the day after Halloween, a series of bizarre events send them back in time to 2019 and into the midst of a time war. Eventually, the girls become very close, but it's a long journey to friendship that unfolds in the first season.
Rosinsky tells POPSUGAR that the showrunners also tried to emulate this dynamic with the actors. "We were asked not to talk to each other until we got to Chicago and met for the first time," she says. "When you see the Paper Girls at first getting to know each other, we were also getting to know each other off-screen."
"Our very first meeting was awkward because they had a photographer there to capture our first moments together," Strazza says, but adds that after the initial awkwardness, they started to bond very quickly. "We learned to ride tandem bikes and together. And we had ice cream just about every weekend to bond."
"Most of the time it felt like there were eight girls rather than four," Nelet said of her work on the show. "It was us, and then the characters we play."
Jones adds that many bonding activities have helped them work on their group dynamics. The funniest ? "We once played laser tag on the second floor of a hotel with our producer, and it was amazing," she says. "We were doing flips and we were running and we were chasing each other and I was hiding under a table and I grabbed someone's leg just so I could shoot them." If the laser tag served as practice for the show's action scenes, that was even better.
"Paper Girls" is based on the comic book of the same name, which published its first issue in 2015 and ended in 2019. Strazza says readers can expect to see many of their favorite moments from the comics in the series, but also some of the brand new ones. "I think [readers] both satisfied and pleasantly surprised," she says.
Throughout the first season, the four girls meet older versions of people from their current lives and learn important information about who they become as adults. None of them are prepared for what they learn.
"Erin has this very specific expectation for herself," Nelet says of her character, who encounters an older version of herself, played by Ali Wong, in an early episode. "And when she finds out that adult Erin isn't exactly what she imagined, it really hits her in the face of reality. I love watching her realize and accept who you think you're going to be and who you think you're going to be. are really."
Strazza says her character, KJ, has the opposite experience. "It gives her this sense of comfort that her life hasn't gone to plan," she says of KJ finding the older version of her. Young KJ feels trapped by her mother's expectations and she loves that older KJ has found a way out.
Jones has many scenes with the older version of her character, Tiffany, and she says it was "so cool" to work with Sekai Abenì, who plays Tiffany in her twenties. "She became like another big sister to me when we finished filming," she says. "She would come and we would practice our big scenes," she says. In a scene where the two Tiffanys drink from coffee cups, they made sure to hold their cups the same way.
Rosinksy's Mac meets an older version of his teenage brother, and their scenes together are particularly joyous. "For Mac, at first it's quite shocking and quite shocking to see that her older brother is older now, but that quickly fades when she realizes he still has the same teenager in him. was years ago," Rosinsky said.
All four actors can't wait for viewers to meet the characters they've come to know and love. "I'm really excited for people to see all the chaos that ensues when the four girls are together," Nilet said. "They just have this tornado feeling when they're together, something's always wrong. And they're just loud. But somehow they always manage at the end of the day to find that eye. of the storm where they can be comfortable with each other and support each other."
Strazza adds, "It's like the stakes go up, their friendship and bond grows stronger."
All eight episodes of the first season of "Paper Girls" are now streaming on Prime Video.